Best Nursery Schools In Ghaziabad 2022 –
Best play school in shastri nagar ghaziabad 2022 – a complete list of Play Schools, Nursery Schools or Kindergartens in Ghaziabad India with information on Fees, Admission procedure, Rankings, Ratings and Reviews, Curriculum, Facilities, Contact Information and Address. Here is a list of the top pre schools in Ghaziabad, including Montessori schools, Nursery Schools, Early Years Foundation Stage Schools, and schools affiliated with the Multiple Intelligences curriculum.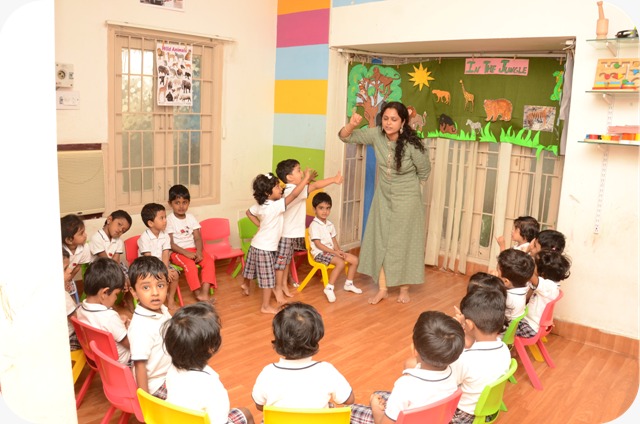 For information on Admission, Fees, Curriculum, School Contact Details, Rankings, Reviews and Ratings of the Best play school in shastri nagar ghaziabad in Ghaziabad, click on the name of the Preschool/Playschool/Nursery Schools from the list of Ghaziabad Pre Schools. A list of national and international pre-schools in Ghaziabad, including daycares, playschools, pre-schools, and pre-primary schools.
Mission:
At Kangaroo kids  Nursary School, Sahibabad, Ghaziabad, we strive to provide our students with a safe and stimulating environment that encourages them to discover and achieve their full potential.
Vision:
Creating global citizens who are inclusive in their worldview is our endeavor in all aspects of education.
The following objectives stand at the center of Kangaroo kids Nursery School in Ghaziabad:
Establishing milestones in the provision of the best play school in shastri nagar ghaziabad through scholastic and co-scholastic activities, including visual and performing arts, sports, and other allied activities.
Through scientific and engaging pedagogy, we provide world-class quality education.
Students should develop an international perspective in order to become responsible global citizens who are locally aware and globally engaged
Our school provides a safe, comfortable and secure learning environment that encourages creativity, personal development, and the acquisition of knowledge, skills, and attitudes.
Providing 360 degrees of all-round development to students so they can have a brighter future.
Infrastructure: 
A student's physical and mental development is ensured by the facilities on the campus of Kangaroo kids Nursary School, Ghaziabad. Under the guidance of experienced facilitators, our excellent sports infrastructure allows students to pursue co-curricular interests. We have designed our classrooms to be student-friendly, with natural light, soundproof, and sanitized furniture. They are among the finest in the Ghaziabada region.
Location:
Being the largest city in the entire state of western Uttar Pradesh, Ghaziabad offers a wide range of Nursery Schools, each of which wants to provide exceptional services to support the values and foundation of your child. In today's world, food, clothes and shelter are not the only necessities, education is one of them as well. Not every working person has a family, but every family has a working person who earns the household's living.
For a holistic development of your child, Ghaziabad has just the right school. Ghaziabad attracts many families. No one would want to move to a place where their child cannot receive the best education. In the past, parents had to pay for coaching classes and tuitions every day for their children, but now they can get it all from the schools of Ghaziabad at one place. There are 1,179 square meters of territory in Ghaziabad.
Schedule A School Visit
Visits to the School are highly recommended for all families considering admission to play school in shastri nagar ghaziabad. You can book these online or through the Front Desk.
​The typical family visit consists of a chat with a member of the admissions staff, a campus tour with a teacher or wing head, and a family conference where the admissions staff member answers questions about the School to convey how Kangarookids will fit into their school search.
Our Objectives
In a harmonious blend of tradition and modernity, Kangarookids School, Ghaziabad offers a comprehensive educational experience. Our philosophy at Nursery Schoolsis that education has a higher purpose of enabling children to live a focused and meaningful life, which is accompanied by a deeper understanding of themselves and their surroundings, making us one of the top schools in Ghaziabad.
Through Kangarookids, we cultivate a sense of global citizenship that transcends narrow boundaries and instills among children.
Throughout the years, Atharv has shown tremendous improvement in his speaking skills, as well as outstanding performance in all areas. Thanks to the school for its innovative teaching methods, he has participated in many programs, including plantation drives and inter-house competitions.
A core set of values, attributes, and skills.
A rigorous academic program at all Levels. Recognizes the interconnected nature of life.
Takes into account cultural diversity.
Children at Kangarookids play school are encouraged to learn new things and outshine in a competitive world. As one of the most renowned Nursery Schools, Kangarookids has all that Toddlers need to thrive!
What Do Our Experts Think?
Kangaroo kids Nursery Schools is one of the "True Smart Learning System" based on U.K. preschool education paradigms that emphasizes two important areas of a child's development. In order to provide early learners with an enriching learning experience in their first step toward education, the Nursery Schools mission is to provide an enriching learning experience. As curiosity continues to grow, their syllabus addresses it in a practical and logical manner. Using cutting-edge technology, Kangarookids School emphasizes the child's holistic development through skilled and dedicated staff.
Speciality:
Reading, Writing, Painting, Drawing, Puzzles, Block Building, Kitchen Play, Sorting Objects, Transport Toys, Field Trip, Sports & Performing Activities, Communication, Language, Physical, Social, and Emotional Development, Construction, Reading, Language, Physical, Social, and Emotional Development